I saw this on a TV segment last year, and have been wanting to try to recreate it for a while now… Aunt Sally's Shrimp and Grits from Boomtown Biscuits & Whiskey in KY and OH.
This is a Thai-inspired spin on the classic shrimp and grits, made with lemongrass shrimp, coconut chili gravy and smoked cheddar grits.
(Note: This dish seems to have come off the restaurant's menu around May 2022. I found a video of Chef / Owner Christian Gill making the dish, and took notes from it. I was not able to save the video from Made In Cookware's Story, and it has since been deleted.)
Hominy Grill Grits
I give my highest recommendation to Hominy Grill's Grits. Hominy Grill was a great restaurant in Charleston from 1996 until April 2019, when they decided to retire. The good news is that they still have their website with a store, and you can still buy the grits. Scratch that. They are sold out. I've made an inquiry to see if they will be back in stock. Your next best bet is Marsh Hen Mill for the highest quality grits. What I loved about Hominy Grill's grits is the larger, more coarse grind. They are also speckled, mostly white with some yellow.
Maple Smoked Cheddar
Chef Gill smoked his own cheddar with maple wood. When you're producing quantities for a restaurant, this makes more sense. However, when you're making food for 2-4 people, I'm not so sure these hours are worth the effort, so I recommend Maple Smoked Cheddar from Grafton Village Cheese Co.
This dish requires a bit of juggling while cooking in order to get it served hot. You're basically making three recipes at once. As soon as the grits go into the stock, start cooking the gravy, then cover the gravy and start on the shrimp while keeping an eye on the grits. Be sure that all of your ingredients are prepped and ready to go before you start as well.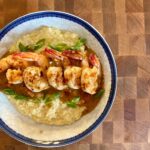 Print Recipe
Aunt Sally's Shrimp & Grits
This is my take inspired by the description, a TV segment, and an Instagram story of the chef making the dish from Boomtown Biscuits and Whiskey in KY and OH.
Ingredients
Smoked Cheddar Grits
2

cups

chicken stock

broth is fine if you don't have stock

½

cup

grits

dry, uncooked

1

tbsp

butter

unsalted

1

pinch

salt

½

cup

smoked cheddar

shredded
Thai Coconut Chili Gravy
2

tbsp

neutral oil

like grape seed or avocado

½

cup

diced ham

1

cup

coconut milk

2

tbsp

Sambal Oelek

2

tbsp

fish sauce

I like the Red Boat brand

2

tbsp

peanut butter

creamy

2

tbsp

roasted red curry paste

2

tbsp

lime juice

about ½ large lime, juiced

1

tbsp

brown sugar
Thai Lemongrass Shrimp
1

tbsp

neutral oil

2

cloves

garlic

chopped

2

stalks

lemongrass

bottom portion, finely chopped

3

tbsp

shallot

chopped, (approximately ½ - 1 small shallot)

1

pinch

salt

1

pinch

MSG

1

tbsp

fish sauce

1

tbsp

honey

3

Thai chilies

sliced thin, stems removed. Add more if you like it really spicy.

¼

tsp

black pepper

10

jumbo shrimp

peeled, deveined, tails on

1

scallion top

(green part) sliced on a bias, for garnish

smoked paprika powder

for garnish
Instructions
Pre-mixing for multi-tasking
For the Thai Coconut Chili Gravy - In a bowl, mix the coconut milk, Sambal Oelek, fish sauce, peanut butter, red curry paste, lime juice, and brown sugar, and set aside.

For the Thai Lemongrass Shrimp - mix fish sauce, honey, Thai chili and black pepper in a small mixing bowl, and set aside.
Smoked Cheddar Grits (Start)
Bring chicken stock to boil

Stir in grits, reduce heat to low, cover and simmer until all of the liquid is absorbed, stirring occasionally - about 15-20 minutes. Meanwhile ...
Thai Coconut Chili Gravy
In a pan, heat the oil on medium high and sauté the diced ham for 2-3 minutes, then remove and set aside.

In the same pan, bring the sauce mixture to a boil, and then reduce to simmer and cook until reduced by half, about 5 minutes.

Remove from heat and stir in the ham, cover to keep warm.

Give the grits a stir, and start on shrimp.
Thai Lemongrass Shrimp
Heat a large skillet over medium high heat; add oil, garlic, lemongrass, shallot and pinch of salt.

Sauté for 5 to 6 minutes, stir occasionally.

Add the shrimp to the skillet, stir well so the shrimp will be coated evenly with the oil and aromatics.

Pour in the sauce mixture and stir. Cook for an additional 2 minutes or until the shrimp are fully cooked.

Remove from heat. Cover to keep warm.
Smoked Cheddar Grits (Finish)
Remove grits from heat and stir in butter and shredded cheese.
Plating
The restaurant uses a small cast iron skillet to serve. You can use a bowl.

Spoon the grits equally into two bowls.

Spoon the gravy across the middle.

Place five shrimp along the line of gravy, leaning against each other.

Sprinkle smoked paprika powder on shrimp.

Place scallions along the line of gravy and shrimp on each side.