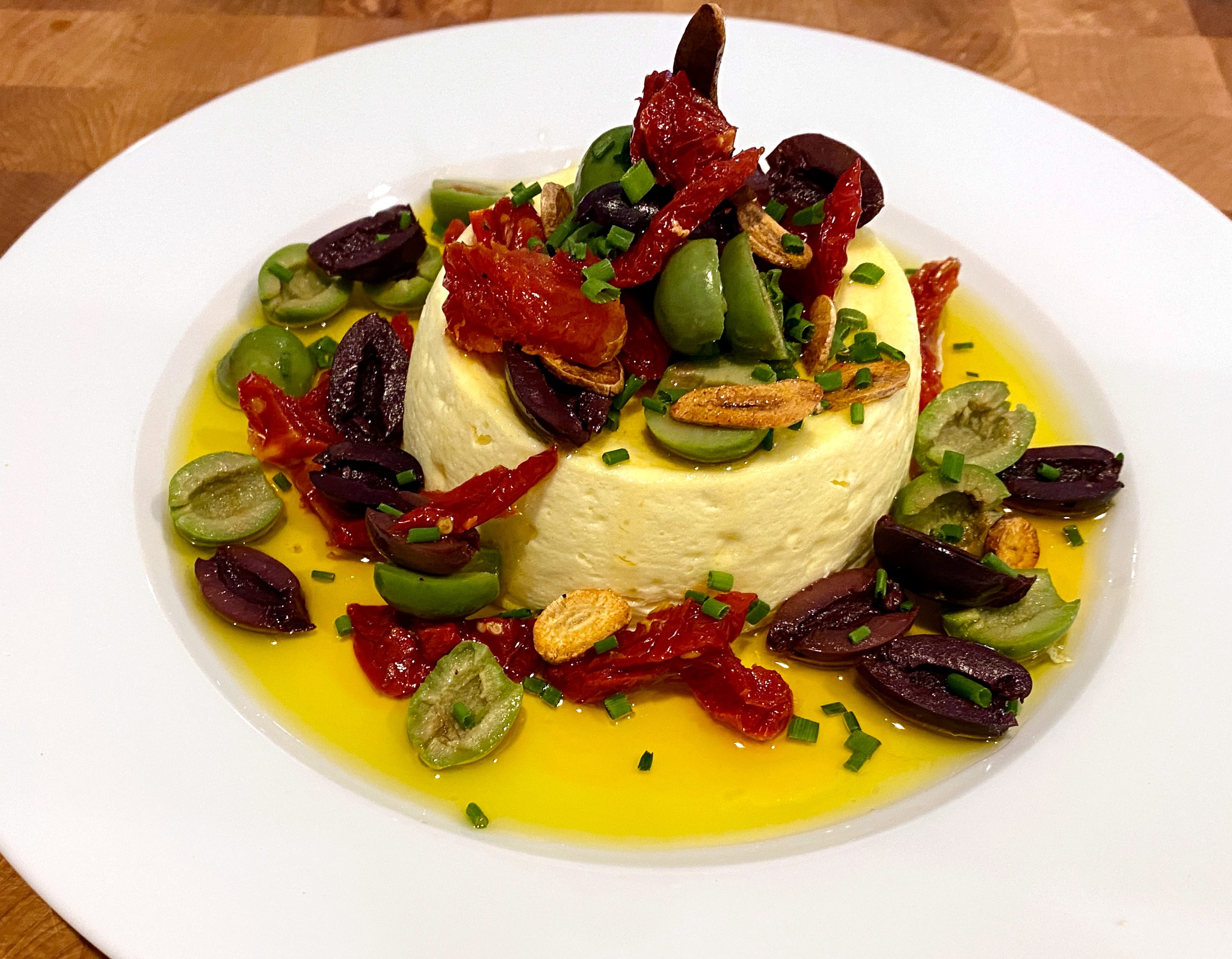 Goat Cheese Sformato is a truly delicious and decadent appetizer. I didn't even know that it existed until September 2022 when we had a family dinner at Olivia in Tampa. Olivia is a great Italian restaurant by Chef and restaurateur Chris Ponte. It was also pretty cool that night that there were two large tables of Tampa Bay Buccaneers players dining at the restaurant.
A few people that really know me and that have discussed food with me before have likely heard this story. When I was a kid, and my family made the infrequent trip to a restaurant for dinner, I would go through the menu, and the first thing I found that I had never had before—that's what I would order.
That doesn't happen too often these days, but it did when we went to Olivia that night. I couldn't find an exact recipe for goat cheese sformato, so I made my own. Sformato simply means, "mold", or in this case "molded" as the cheese mixture gets molded inside of a ramekin.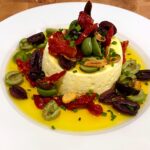 Print Recipe
Goat Cheese Sformato
This is a delicious and decadent dish that will impress at your next dinner party. It seems mysterious and complicated, but it is actually quite quick and easy to make, and not often seen on menus.
Ingredients
Goat Cheese Sformato
1

cup

Goat Cheese

3

Eggs

½

cup

Crème Fraîche

Store bought, or make your own - see recipe below.

Salt

To taste

Butter

For greasing ramekin
Garnishes & Bread
Oil from Jar of Sun Dried Tomatoes

Sun Dried Tomatoes

Sliced Sicilian Olives

Sliced Kalamata Olives

Toasted Garlic Chips

Chopped Chives

Crostini
Crème fraîche
1

oz

Buttermilk

8

oz

Heavy Cream
Instructions
Crème fraîche (If not using store bought)
Mix buttermilk and heavy cream. Put in a clean jar, and let it sit out for 24-48 hours. It will thicken. It keeps in refrigerator for 5 days.
Goat Cheese Sformato
Mix the eggs and goat cheese in a food processor until smooth.

Add the crème fraîche and process until mixed.

Grease ramekin with butter.

Fill the ramekin 3/4 full with the mixture.

Place ramekin into a baking dish.

Pour hot water into a baking dish, filled to 2/3 of the way up on the ramekin(s).

Place the baking dish on the lower rack in the oven.

Bake for 30-40 minutes. The custard is cooked when a toothpick or cake tester inserted into the center comes out clean.
Plating
With tongs, carefully remove ramekin from water and let cool for at least 10 minutes.

Place upside down plate on top of ramekin, and flip and release contents onto plate.

Drizzle EVOO around outer part of plate. Drizzle oil from sun dried tomatoes on top of sformato.

Top Sformato with Sun Dried Tomatoes, Sliced Sicilian Olives, Sliced Kalamata Olives, Toasted Garlic Chips.

Garnish with chopped chives.