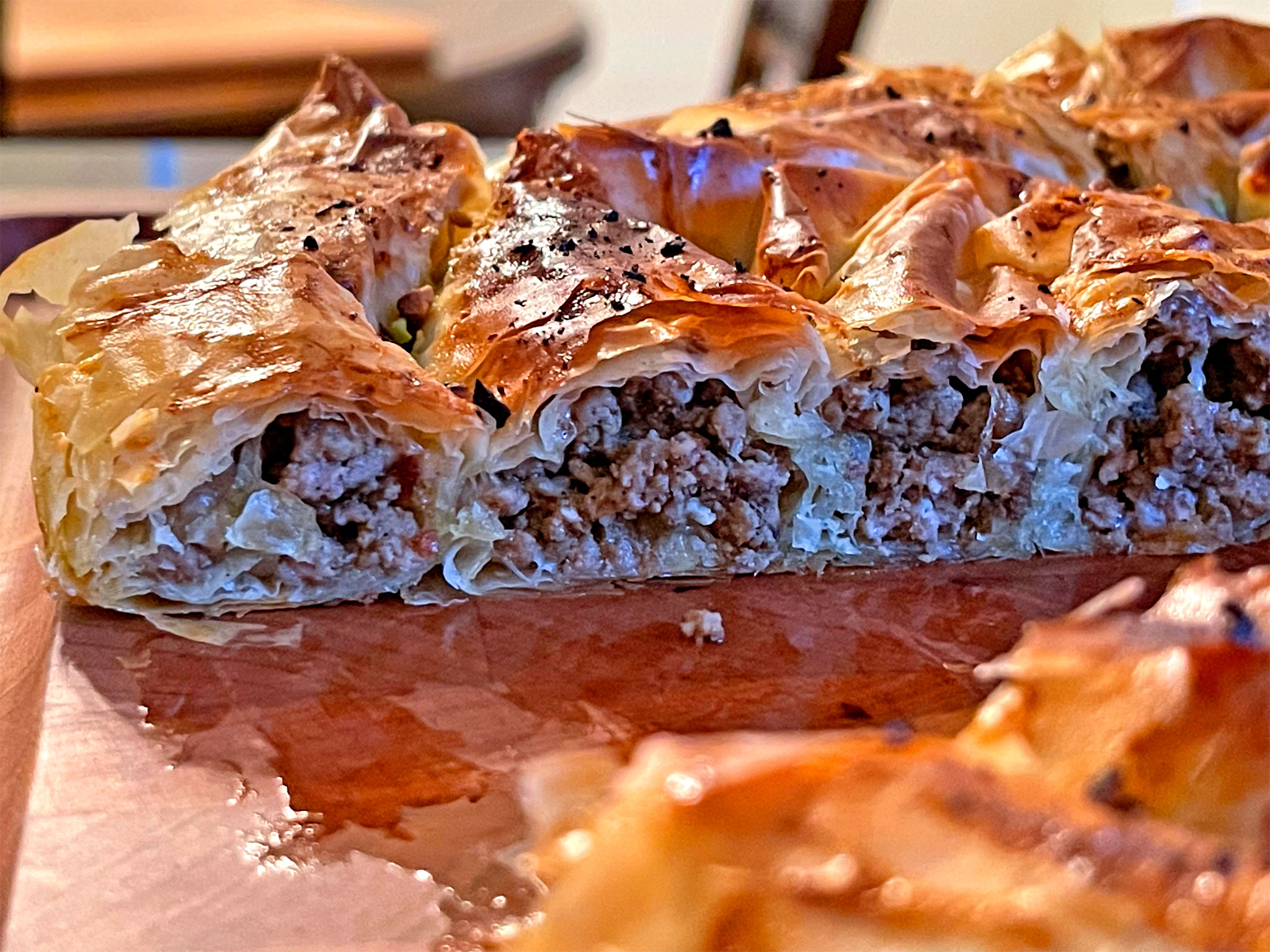 I first learned about borek while watching an episode of Bon Appétit's "A Day in the Life of a Chef". The episode featured Juliana Latif, the Chef de Cuisine at the Eastern Mediterranean restaurant Zou Zou's in NYC, which is near Penn Station. You can see the episode on YouTube here.
Zou Zou's Duck Borek is done A l'Orange style based on the classic French duck dish, but it is with ground duck as it should be for borek.
There are a ton of different versions of borek. It is sometimes spelled burek as well. There are several Middle Eastern versions and some Mediterranean versions. Many of the recipes have just one or two spices in them, such as cumin, or paprika with salt and pepper. Some have coriander. I decided to make my own version that would really evoke the flavors I think of when dreaming about Middle Eastern spices, such as sweet paprika, cumin, coriander, Aleppo chiles, and cardamom. It's all in there.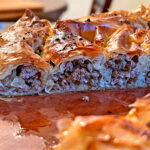 Print Recipe
Lamb & Beef Börek
There are many version of borek that come from different Middle Eastern countries. This one is unique in that incorporates more spices than most, but all of the spices are associated with the places you find the different versions of borek. This is usually a side or a snack. The restaurant Zou Zou's in NYC has it as a main, and so do I. I suggest serving with mashed potatoes and sautéed spinach. This is the only recipe where I use lean ground beef (I usually want more fat) so it won't make the borek greasy and prone to burning.
Ingredients
16

oz

ground lamb

16

oz

ground beef

93% lean

1

large

yellow onion

minced

8

medium

garlic cloves

minced

1

tbsp

salt

2

tsp

pepper

2

tsp

sweet paprika

2

tsp

cumin

2

tsp

coriander

2

tsp

Aleppo chiles

dried, crushed

1½

tsp

cardamom

¼

cup

olive oil

plus 1 tbsp for egg wash

4

tbsp

water

32

(9-x 14-inch) frozen phyllo pastry sheets

thawed (such as Athens) (from 1 lb pkg.)

1

egg
Instructions
Meat Filling
In a small bowl, or ramekin, mix all of the spices together. Set aside.

Heat a pan with olive oil and then sauté onion for two minutes.

Add garlic to pan and sauté for one more minute.

Add the beef and lamb to the pan. Mix to combine everything and cook for 4-5 minutes.

Drain the meat mixture and add back to the pan.

On medium heat, stir the spice mixture into the meat along with 4 tbsp water, lower to medium-low, cover and simmer for 2-3 minutes.

Remove meat mixture from heat and place in a bowl and chill in the refrigerator for 5-10 minutes. (Warm meat with juice will ruin the delicate phyllo and make it soggy.)
Assembly, Final Cooking & Serving
Lightly brush 2 (9") round baking pans with oil. Set aside.

Place 1 phyllo sheet on a clean work surface, keeping remaining sheets covered with a damp towel (spritz it, don't soak it) to prevent them from drying out.

Brush phyllo sheet lightly with 1 teaspoon oil. Top with a second phyllo sheet. Brush top of second sheet with 1 teaspoon oil.

Place 2 oz of meat mixture in a thin line along 1 long side of phyllo sheet. Starting at filling end, roll phyllo (snug, but not too tight or it will tear) around filling to form a long log shape. Coil log to form a tight spiral. Set it in the center of one of the 9" pans.

Repeat process, but only up to rolling phyllo around filling to form a long log shape. Bring it to the pan, and continue to form the coil where the first one left off, and keep going repeating the process until you fill the pan with what looks like one large coil. Then do it again in the second pan.

Whisk 1 tbsp olive oil with the egg, and brush it onto the börek.

Bake at 375°F for 25-30 minutes until golden brown. You can move to the second shelf under the broiler to help browning for the last 1-2 minutes.

Let cool for 3-4 minutes, then remove from pans and slice into triangles like a pizza and serve.
Notes
1. This is the only recipe where I use lean ground beef so it won't make the borek greasy and prone to burning.
2. Suggested accompaniments: Mashed potatoes. Sautéed spinach.
3. The photos just show one Lamb & Beef Borek. This recipe DOES make two.