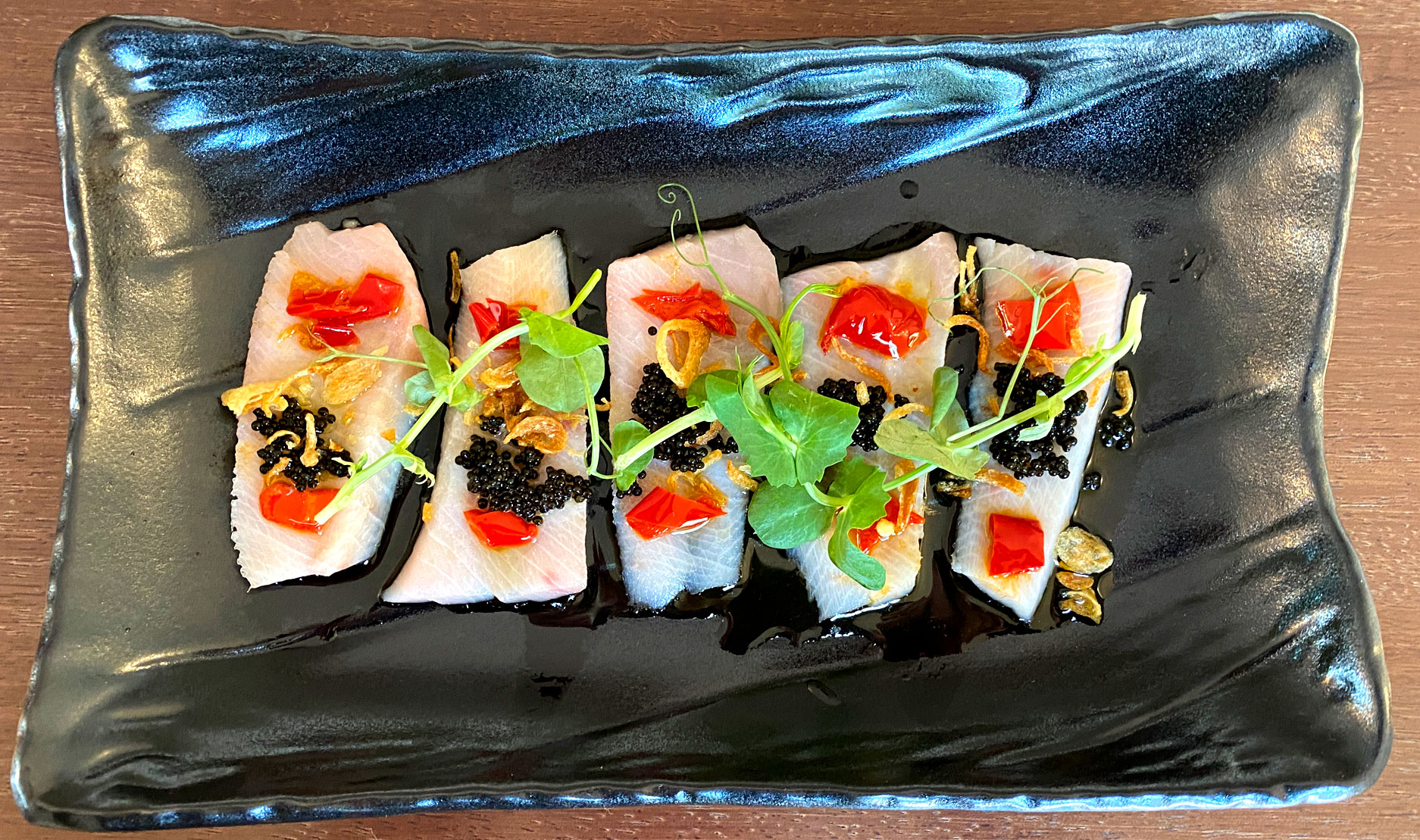 I've been getting into making Japanese cuisine lately, especially sushi and sashimi. Hamachi Crudo isn't exactly sashimi, but it is similar in that it is raw fish sliced thin. That's about where it ends for sashimi, except for some soy sauce maybe. "Crudo" means raw whether it's for Japanese, Italian, American, or Spanish food. A hamachi crudo is usually topped with olive oil and citrus amongst other ingredients, which makes it different than sashimi.
I've actually had Hamachi Crudo in more Italian restaurants than Japanese, so which is it? It is actually both, and this recipe has ingredients from both cultures. The Yuzo is undeniably Japanese, and the Calabrian chiles are unquestionably Italian. The rest could go either way.
Is Hamachi a Tuna? Short answer: No. Hamachi is its own fish species, otherwise known as Jackfish, or Japanese amberjack or yellowtail. People get YellowTAIL confused with YellowFIN. Yellowfin IS a type of tuna. Yellowtail is not.
Can You Eat Hamachi Raw? Is Crudo Served Cold? Yes, and yes. Not ice cold, but not too much warmer than 40°F. I've long wondered why I could eat sushi or sashimi raw, but I couldn't just go to the store and buy any fish and eat it raw.
Almost all fish have parasites – some farmed salmon and some wild tuna do not. To diffuse the bad health ramifications of fish parasites, you either need to cook them to 145°F, or freeze them to -40°C for 24-hours, or -20°C for 48-hours.
This is obviously much cooler than your home refrigerator goes. When you buy "sushi-grade" fish, it means that it has been frozen for the temperature and time previously mentioned. One of the parasites gets killed and another just goes dormant. If and when it gets above 40°F, the little buggers start to wake up. So, keep your raw sushi-grade fish cold.
I thought twice about mentioning parasites in a recipe blog post, but hey, you CAN handle the truth, and it's good to know a little about food safety when dealing with raw items.
You will want to start with a Hamachi Saku. Saku means "block" in Japanese. If you buy a fillet, then you will have to trim it into a saku, or you can buy an already formed saku online.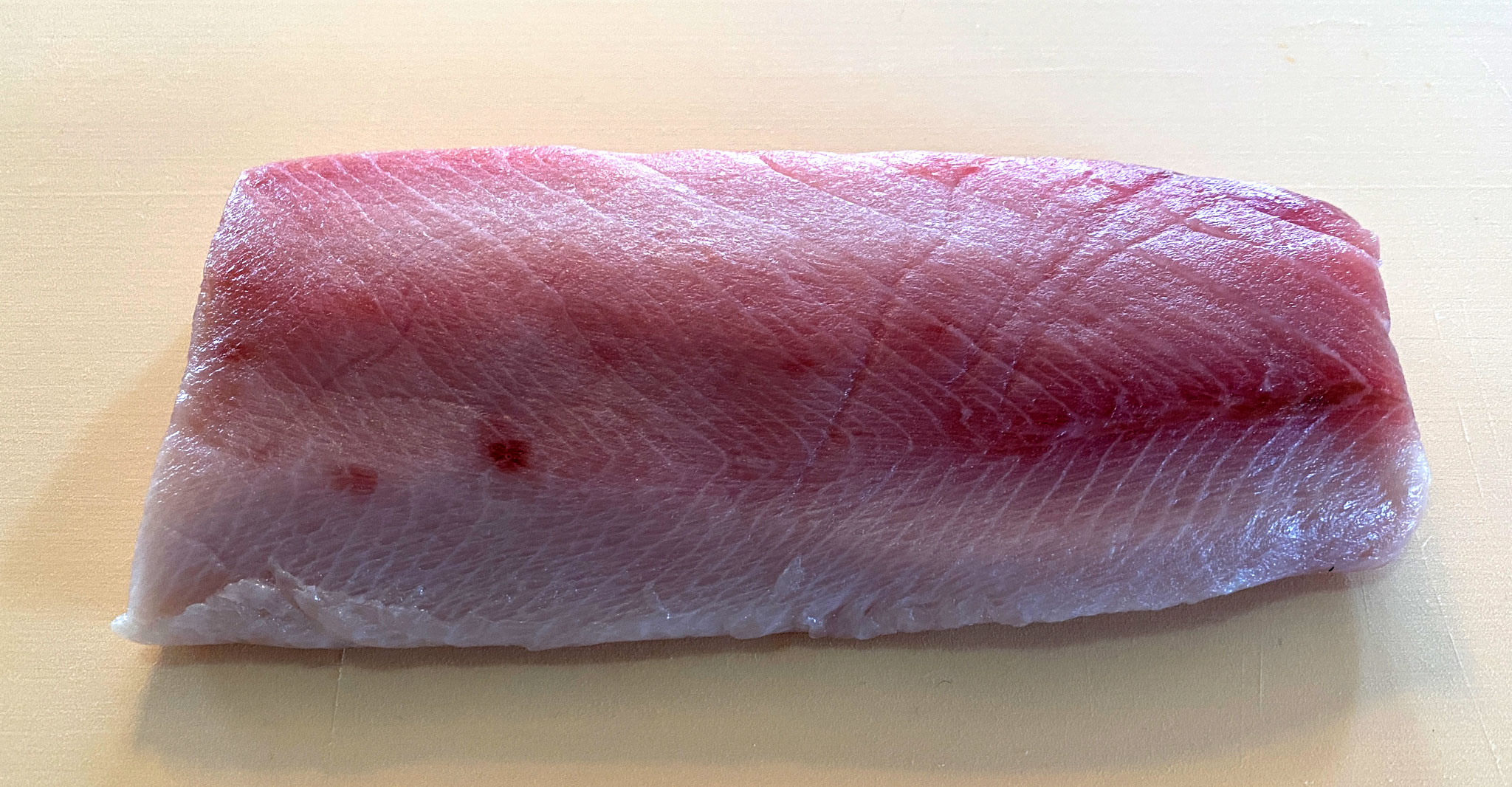 You want to slice on a 90° angle against the grain. Notice the grain is running diagonal in the above photo, so we will cut diagonal in the opposite direction. See the video below.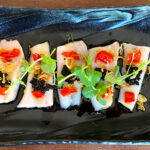 Print Recipe
Hamachi Crudo with Yuzu Hot Sauce, Caviar, & Calabrian Chiles
This is a unique and delicious Hamachi Crudo recipe with both Japanese and Italian ingredients. The recipe is for one serving that can be shared between two people, or just increase the amounts as needed.
Equipment
1 Yanagiba Sushi Knife

or very sharp slicing knife or chef's knife, preferably single bevel, but a sharp double bevel will work.
Ingredients
5

slices

Hamachi

thinly sliced

3

tsp

Extra virgin olive oil

divided

Yuzu hot sauce

as needed for drizzling

1¼

tsp

black caviar

3

oz

Calabrian Chili Peppers

jarred, sliced

1

tbsp

crispy shallots

for garnish

1-2

pea shoots

for garnish
Instructions
Drizzle 2 tsp olive oil on plate in a horizontal line.

Thinly slice hamachi, and place along the line of drizzled olive oil.

Drizzle Yuzu hot sauce on top of hamachi.

Spoon caviar (with a mother-of-pearl spoon) onto each piece of fish.

Add the Calabrian chiles, then crispy shallots, then pea shoots.

Serve and eat immediately.