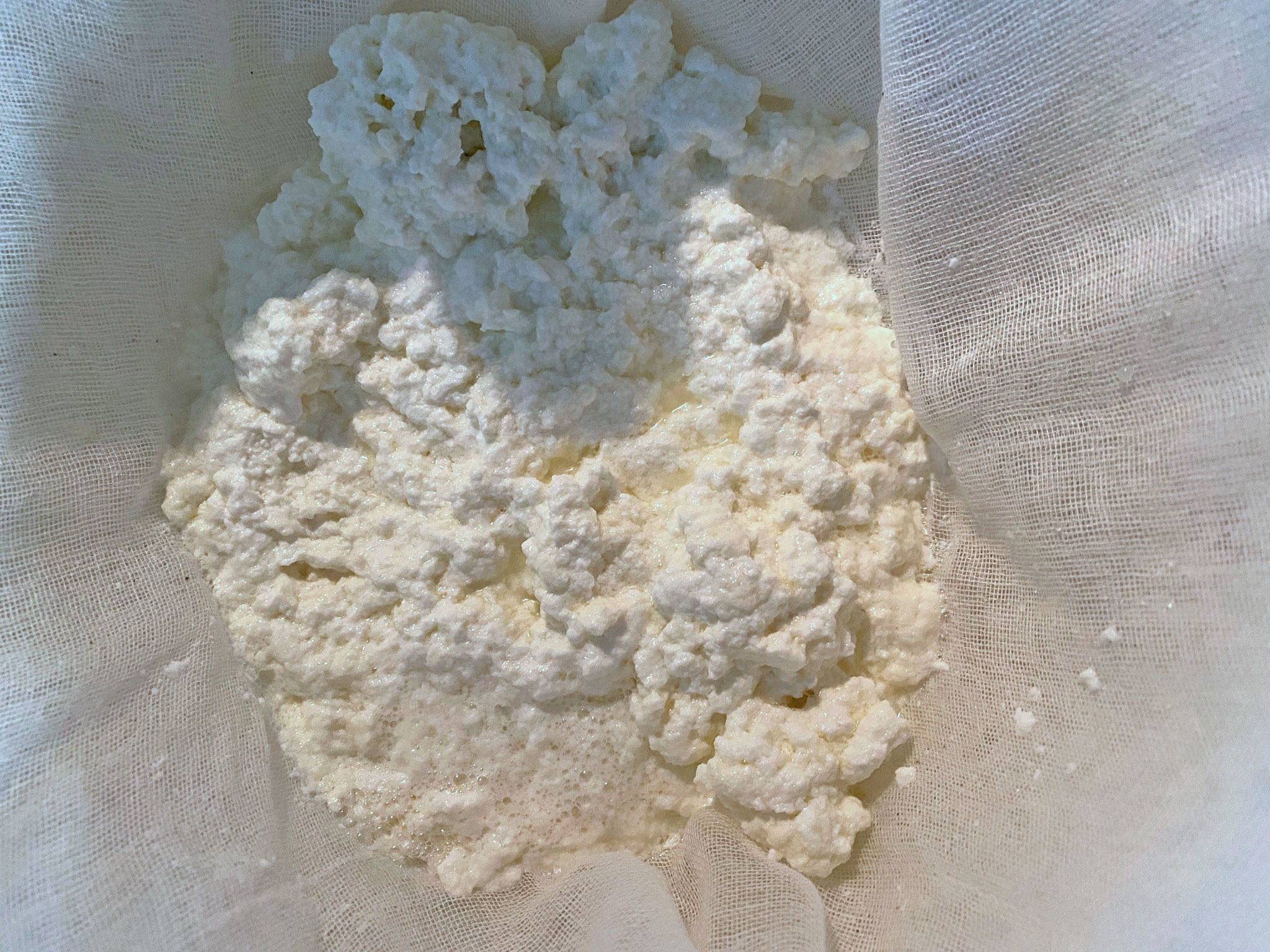 Homemade Ricotta? No way! Whey! I used the really cool buttermilk as acid method from the Culinary Institute of America's Chef Josh Anderson. The more common way is to use lemon juice as the acid.
Cheese can seem like such a mystery, but in its' simplest form … it's just that … simple. All cheese starts with milk. It's usually milk from cows, goats, or sheep. The next step is to curdle the milk, usually with rennet. Rennet is an enzyme used to coagulate milk, in order to form a thick curd. It is naturally occurring in the stomach of a calf, lamb or goat while their diets are still limited to milk. There is also a vegetable form of rennet, but enough about that as we're not even going to use it to make the "fresh cheese" that is ricotta.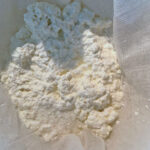 Print Recipe
Ricotta Cheese
Impress your friends by making your own cheese without having to know anything about cheese making. It's so simple and quick.
Equipment
Cheese cloth

Instant read thermometer

Strainer
Ingredients
½

gallon

Whole Milk

1

pint

Buttermilk

2

tsp

Salt
Instructions
On medium/high heat bring milk to 180 degrees. Check temperature with an instant read thermometer.

Add the pint of buttermilk, and bring back to 180 degrees.

When curds start to form, start removing them with metal strainer so they don't get too hard.

Put through another strainer lined with cheese cloth.
Notes
Have some lemon juice handy in case you don't think you're getting enough curds.
The longer left in, the bigger the curds become.
Ricotta is great with strawberries and honey as a dessert or cheese course.
Common uses are also for ravioli and lasagna.
Leftover whey (keeps for a week) can be used for cooking, like you would use stock. The leftover whey should look more like heavily used pasta water than like milk. Try cooking potatoes in it with garlic and thyme.
This is great for making lasagna, ravioli, and cheese tortellini amongst many other tasty uses. I like this recipe for cheese tortellini over at Culinary Ginger.