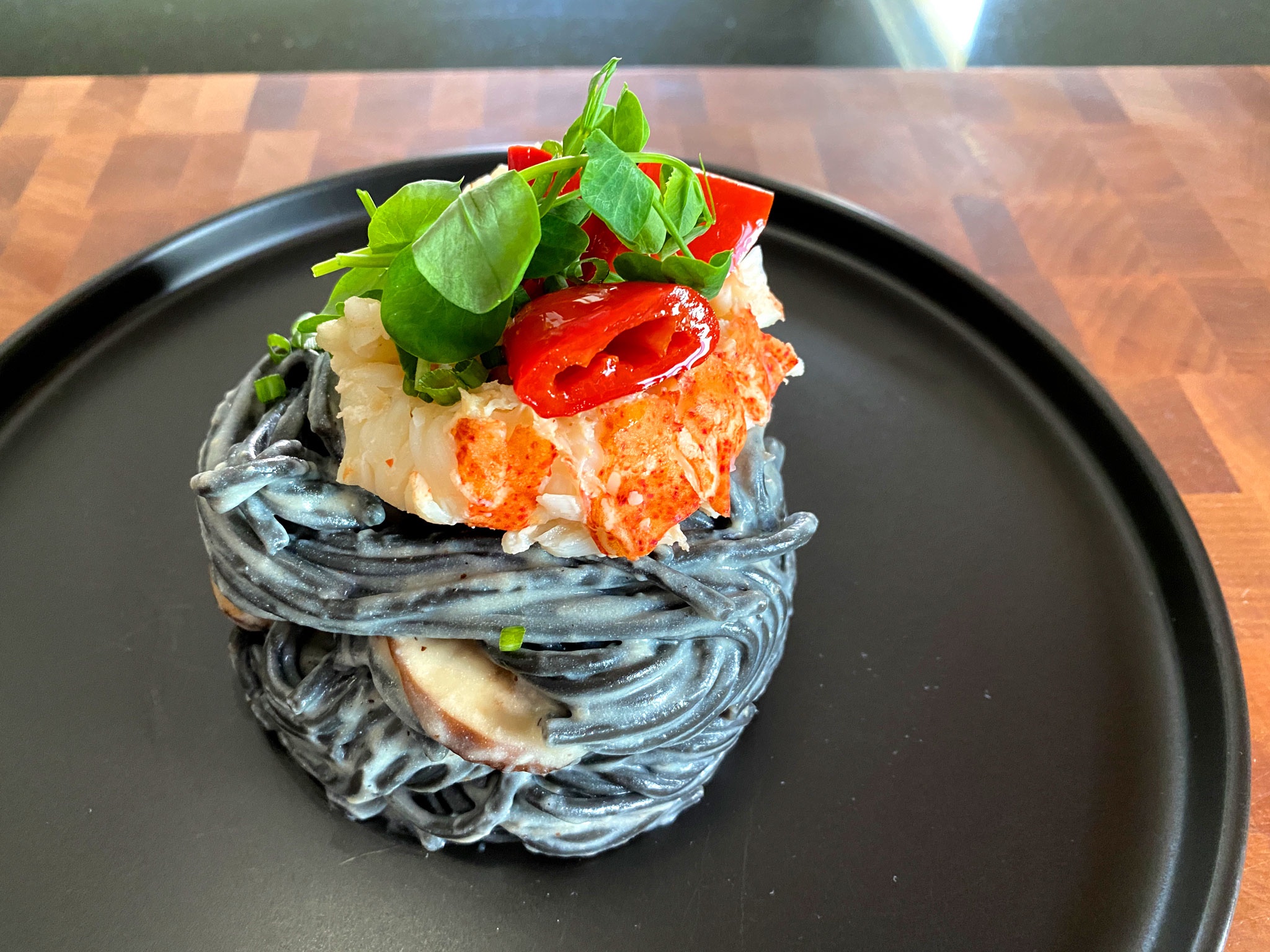 Tonnarelli is square shaped pasta instead of round, similar to Chitarra. Chitarra is from Abruzzo. Tonnarelli is from Lazio – it's the Roman version of Chitarra.
This is a restaurant quality dish that you can easily make at home. It's great for a special occasion, or to impress a date or your spouse. It's also hearty and elegant at the same time.
We steam the lobster tails outside of the shell, and do not insert a toothpick as we want them to curl so they fit nicely on top of the twirled pasta.
We often hear of "squid ink pasta", but most "squid ink pasta" that is available to buy actually uses cuttlefish ink. Don't be put off if you see the black ink referred to in that way. The cuttlefish is part of the same family as squid, and the two ingredients are interchangeable in recipes. The ink's savory properties come from its high content of glutamate, which is an amino acid that's also an umami compound. In nature, the purpose of the squid ink is as a defense mechanism to cloud the water enabling the squid or cuttlefish to escape a predator. For us, it makes the pasta taste better.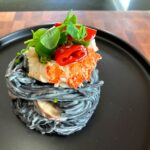 Print Recipe
Lobster Tonnarelli al Nero with Mushrooms in Garlic Alfredo Sauce
This is a delicious, hearty, and decadent dish guaranteed to impress, and easy to make.
Equipment
Steamer basket

for lobster

4"W x 2"H Stainless Steel Round Food Ring Mold

optional, for plating
Ingredients
Pasta
5

qts

Water

filtered, not straight from the sink

8.8

oz

La Rustichella Tonnarelli al Nero di Seppia Pasta

(or your squid ink pasta of choice, half the package), ~1/2 lb
Lobster
2

5-6 oz

Spiny Lobster Tails

fresh or thawed

1

cup

water to steam

filtered, not straight from the sink

2

pats

butter
Creamy Garlic Alfredo Sauce
¼

cup

butter

½ stick

4

cloves

garlic

minced

¼

cup

all-purpose flour

1

cup

heavy cream

½

cup

white wine

½

tbsp

Dried Italian seasoning blend

½

cup

grated Parmesan cheese

salt & pepper

to taste

4

oz

Cremini Mushrooms

cleaned and thinly sliced, or mushrooms of choice
Garnish
2

pieces

Red Ripe Pickled Jalapeño Peppers

(de-seeded) (I take them from the Delallo Antipasto, Pepper & Garlic item found by the cheeses at Publix.) Red bell, or Fresnos work too

Chives

chopped

Pea Tendrils
Instructions
Pasta
Boil 5 quarts water in a large pot, add generous amount (1-2 handfuls) of salt AFTER the water boils. Return to a boil, add the squid ink pasta. Cook according to package instructions.

Package instructions for La Rustichella are a cooking time of: 9-11 minutes. BOIL FOR 7-8 MINUTES. IT WILL FINISH COOKING IN THE SAUCE.

Reserve 1 cup of pasta water before straining.
Lobster
While waiting for pasta water to boil, using kitchen shears, cut a straight line down the top center of the shell to just before the tail fins. Spread the shell open, lift the meat out. (We will steam without the shell.)

Fill a steaming pot with 1 to 2 inches of water. Bring to a boil. Place the lobster tails into a steamer basket and insert it into the pot, making sure the water doesn't reach the lobster.

Steam the lobster tails with the lid closed until fully cooked, about 5 to 6 minutes. Brush with butter when finished steaming.
Creamy Garlic Alfredo Sauce
Heat a straight-sided sauté pan on medium-high heat. Melt butter, then add garlic and cook until translucent and fragrant (about 1 minute).

Whisk in flour and fully incorporate with butter and garlic.

Slowly whisk in the cream and white wine, alternating between the two until fully incorporated. Whisk often to make sure flour lumps are smooth, bring sauce to a low boil. Then reduce heat to low.

Add the sliced mushrooms, and Italian seasoning. Lightly simmer for 2 to 3 minutes.

Stir the Parmesan cheese into the sauce.

Add the pasta to the skillet.

Add reserved pasta water to thin the sauce AS NEEDED. Lightly simmer and stir for 2 minutes. Stir and turn with tongs to get the pasta and sauce well incorporated with each other.

Salt and pepper to taste, and give a final stir.
Plating
Using tongs, grab a bunch of pasta, and twist into ring mold, or into the center of the plate. Repeat one or two times until desired amount of pasta is on the plate, or ring mold is full.

Gently, carefully remove ring mold if using.

Top pasta with lobster tail, then red peppers, then pea tendrils, then garnish with chopped chives.