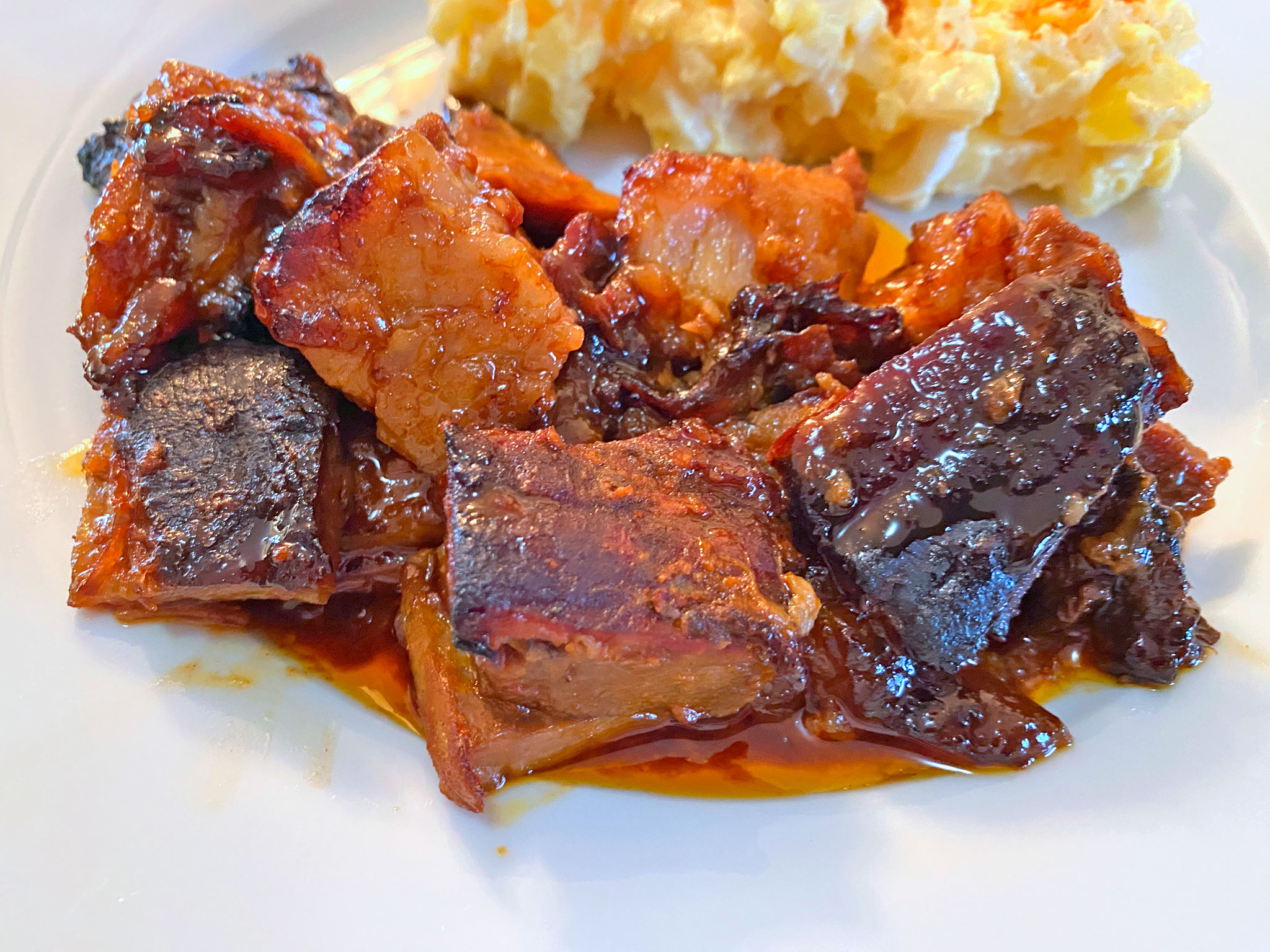 This is one of the easiest, and tastiest dishes I've done on my Weber Smokey Mountain Cooker. First of all, using pork belly is almost like cheating. It's nearly impossible to screw it up, and with approximately 50/50 fat to lean ratio, it's going to taste amazing, and have a great mouthfeel too. Then, you take this already great cut, and add cherry wood smoke, and Korean flavor and spice, and it's an epic winner.
We paired this with the aptly named, "Grandma Brown's AMAZING Potato Salad" from Lori's grandmother. It is just as delicious as the glazed pork belly. One of the keys is to cook the potatoes al dente so they have a nice bite to them, which is a nice contrast to the melt in your mouth pork belly.
Another thing I like about this smoker recipe is that it keeps well if you want to make it ahead, as it finishes nicely under the broiler.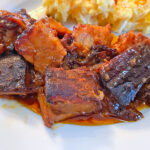 Print Recipe
Smoked Korean BBQ Glazed Pork Belly
This is smoked low and slow on a Weber Smokey Mountain Cooker. This one works fine done a day in advance as it is finished under the broiler. It's sure to impress your dinner guests.
Equipment
1 Outdoor Charcoal / Wood Fired Smoker

(I used a Weber Smokey Mountain Cooker.)

Charcoal

(I used Kingsford Original Briquettes.)

Smoke Wood

(I used cherry wood.)

Spray bottle

for spritzing the meat to keep it moist

12" Ham Slicer
Ingredients
Pork Belly Seasoning, Rub, and Smoke
4

lbs

Pork Belly

skin removed, fat left on

Kosher Salt

Black Pepper

Yellow Mustard

Apple Juice

in a spray bottle for spritzing
Korean BBQ Pork Sauce / Glaze
1

cup

Gochujang

½

cup

Hoisin sauce

½

cup

Soy sauce

½

cup

Ketchup

½

cup

Honey

½

cup

Korean rice wine

2

tbsp

Unseasoned Rice Vinegar

4

inch

Piece of Ginger

peeled and grated on a microplane

6

cloves

Garlic

minced

2

tbsp

White pepper
Instructions
Score the fat on the pork belly, and season with salt & pepper about two hours before the cook.

Keep in the refrigerator and place on a rack so air can circulate all around.

Thirty minutes prior to going on the smoker rub all over with yellow mustard. You want a thin coat, so you may have to wipe some off.

Set your smoker to cook using indirect heat and preheat to 250°F. (I used Kingsford Charcoal Briquettes for fuel and Cherry Wood for smoke flavor.)

Place pork belly directly on the grill grate, and spritz with apple juice every hour.

When the meat hits an internal temperature of 190°F, (this took three hours for me) wrap it in aluminum foil, and place back on the smoker.

When it reaches an internal temperature of 203°F, remove it from the smoker, unwrap it and let it rest on a rack for 20 minutes. (I had a total of 7 hours and 20 minutes on the smoker, but don't go by time. Go by internal temp. It could go faster or slower depending on your conditions.)

While the meat is resting mix together the gochujang, hoisin sauce, soy sauce, ketchup, honey, Korean rice wine, rice vinegar, ginger, garlic, white pepper.

After the meat rests for 20 minutes, cube it and mix with ONLY HALF the sauce in an oven pan. (Keep the rest of the sauce for adding extra at the table.)

At this point you can continue, or cover it and keep in the refrigerator until your ready to finish.

In the oven, set the top rack on the second slot and put the cubed, sauced meat under the high broiler for about 2-4 mins if you're continuing on. If coming out of the refrigerator, it may take 5-8 minutes. Keep an eye on it and remove it when it looks right.

Serve with your favorite sides.