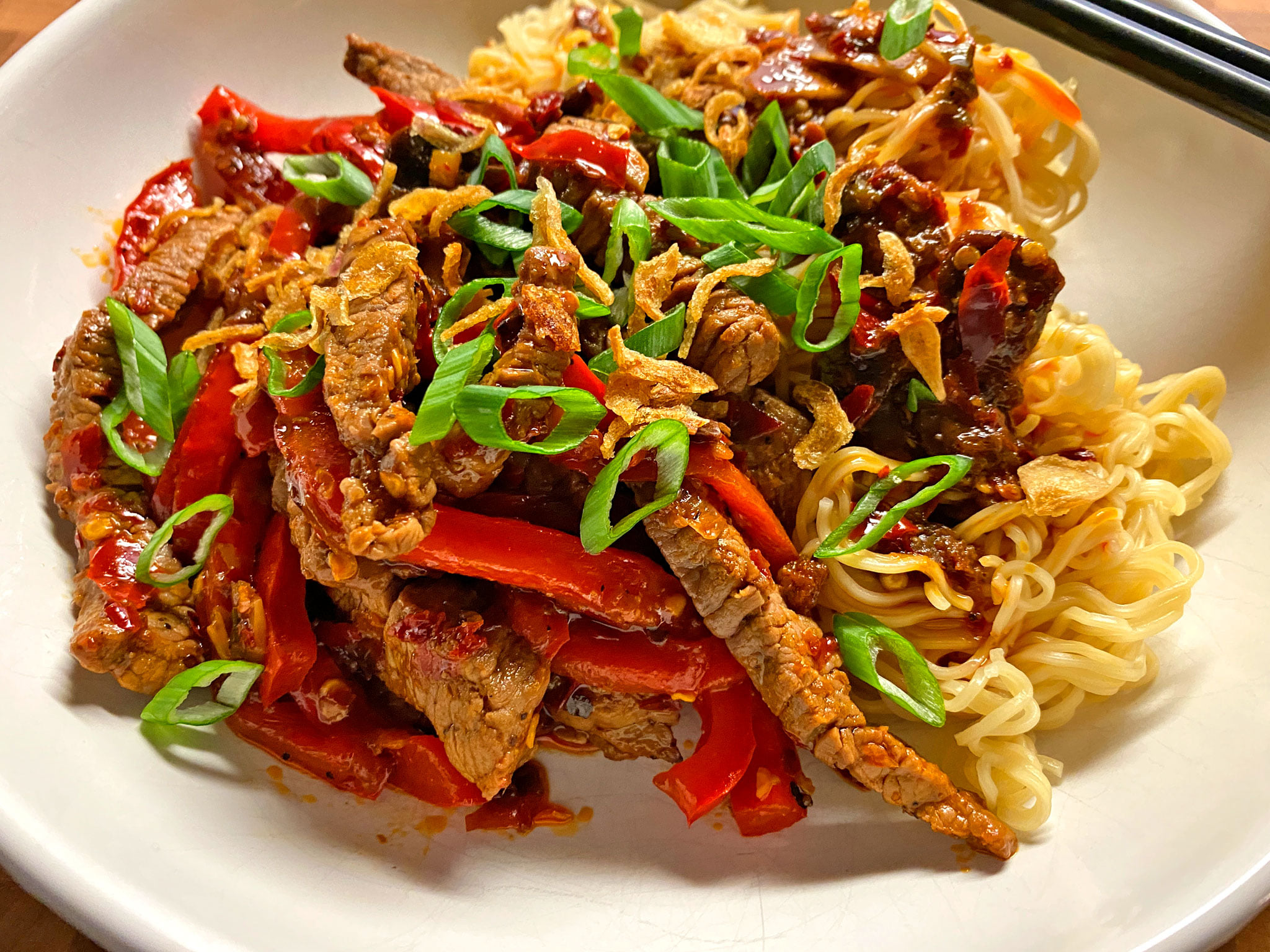 Ever since Lori got me a wok for Christmas of 2020, there's been no turning back. I've been rockin' out with my wok out on a regular basis. So much so that my foodie friend Don Nguyen gifted me "The Wok: Recipes and Techniques" book by J. Kenji López-Alt. I highly recommend it if you want to really kick up your wok game.
He dispels many myths, especially the main one that has people thinking that you can't properly wok stir fry at home because you don't have a 3,000° jet flame burner, and that you can't get the flavor essence of wok hei. You can. (Pouring the sauce down the sides of the wok helps with this. You can also play with a torch if you want. Kenji goes into it in the book.)
This is a simple recipe that tastes spectacular because of the authentic ingredients from China. The Chinese restaurants that completely cater to the uninitiated American palate make me sad. I want my Chinese food to taste like Chinese food, not American food.
I admit that the red bell peppers in this recipe do Americanize it somewhat. However, the Pixian Doubanjiang, Sichuan Peppercorns, Chinese Soy Sauce, and Shaoxing Wine are authentic, unique tasting ingredients that transport you to The Red Dragon.
(Don't miss the note on preparing Sichuan Peppercorns.)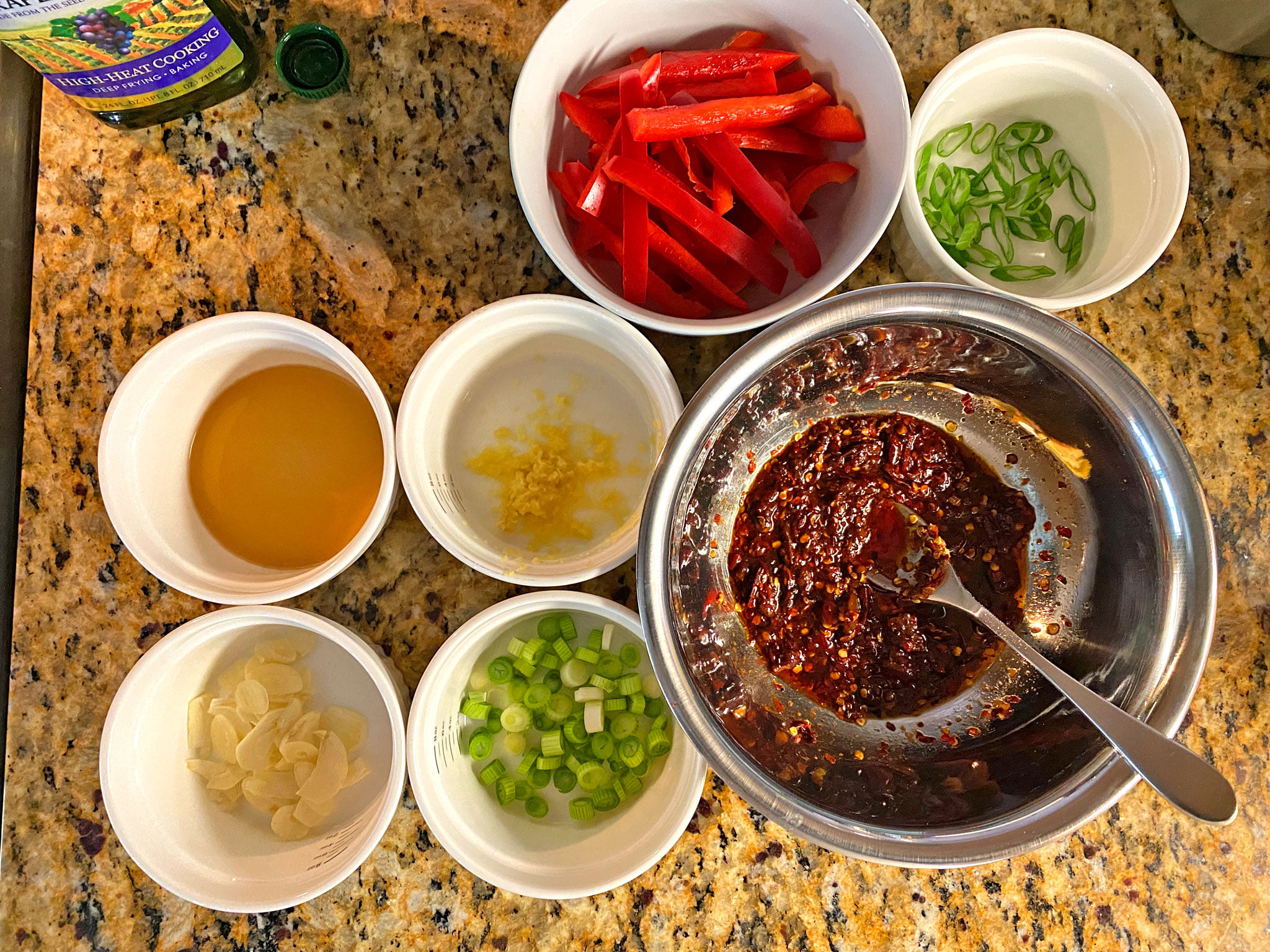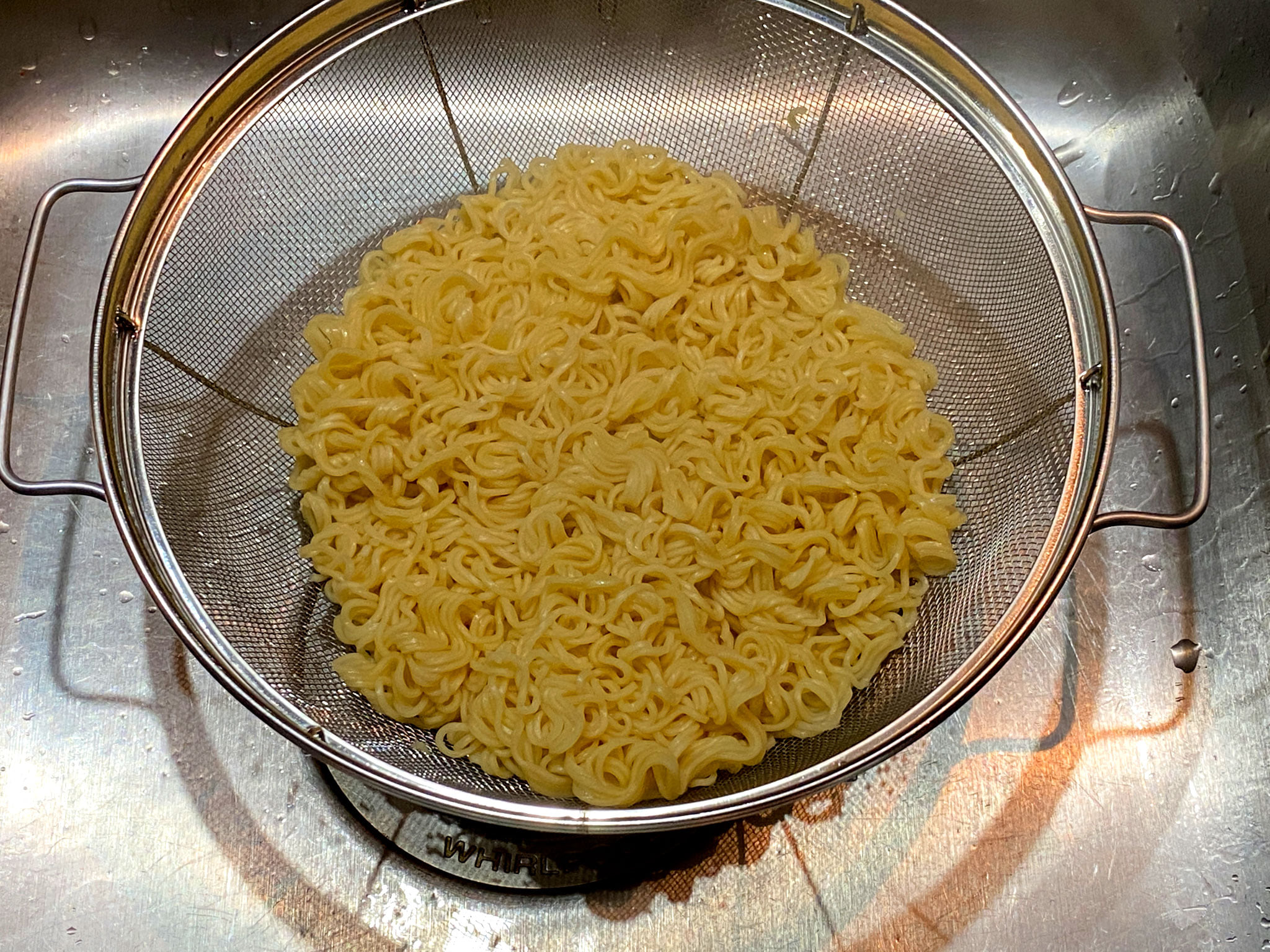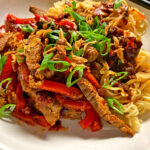 Print Recipe
Sichuan Beef Noodle Stir Fry
This is a flavorful and funky Chinese dish with that will delight with authentic flavors from using traditional Chinese-made ingredients, such as Shaoxing Wine, Sichuan Peppercorns, and Pixian Doubanjiang.
Equipment
1 Carbon Steel Wok

1 Wok Chuan

also called a wok spatula

1 Infrared Thermometer Digital Temperature Gun

For Wok temp, optional

1 Microplane
Ingredients
Stir Fry Ingredients
8

oz

Top Sirloin

Sliced into ¼" strips on a bias

8

oz

Package KA-ME Chinese Noodles

(Pre-cooked - follow package directions - cooks in 3 mins)

3

tbsp

Grape Seed Oil, divided

or other high heat cooking oil, like Avocado

1

Red Bell Pepper

Batonnet sliced

2

cloves

Garlic

Thinly sliced

2

inch

Knob of Ginger

Grated on a microplane

2

Scallions

sliced white to light green parts, dark green parts reserved
Garnish
2

Scallion tops (dark green parts)

¼" cut on a bias for garnish
Sauce Ingredients
1

tbsp

Pixian Doubanjiang

1

tsp

Chinese Sichuan chili flakes

or more to suit your desired spice level

2

tsp

Sichuan Peppercorns

See notes for proper preparation, if you don't already know how, for maximum enjoyment.

1

tsp

Light Brown Sugar

½

tbsp

Chinese Light Soy Sauce

½

tbsp

Shaoxing wine

½

tsp

MSG

optional
Instructions
Top Sirloin
After slicing on a bias, season with salt and pepper before preparing other ingredients
Cook Noodles
Cook noodles to package instructions, drain and rinse with cold water. Set aside divided into two bowls.
Stir Fry
Whisk all sauce ingredients together. Re-whisk just before using at the end.

Heat up a wok with 1 tablespoon of the cooking oil to 400. Check temperature with infrared temperature gun, or heat until oil is shimmering.

Add the beef to the wok and do not disturb for 30-40 seconds. Stir fry the beef for another 30-40 seconds.

Remove the beef from the wok and into a bowl. Set aside.

Clean the wok using tongs and a bunched up wad of paper towels. Heat it up with the remaining 2 tablespoons of oil.

Add in the minced ginger and sliced garlic and stir-fry until light brown or aromatic. About 30 seconds.

Add the bell peppers and scallion bottoms to the wok and do a few quick stirs.

Add the beef back in and do a few quick stirs.

Re-whisk sauce, and pour down the edges of the wok so it slides down the sides. Do not pour over top.

Continue to stir fry making sure everything is well blended with the sauce and all of the ingredients, about 30-60 seconds.

Remove from heat and pour toasted sesame oil over top and stir in.

Transfer over top of noodles in the two bowls using tongs. Spoon more sauce over if needed.

Garnish with the scallions.
Notes
Sichuan Peppercorns - How to Prepare
Don't just dump in the Sichuan Peppercorns like I did the first time, ruining the dish.
This is a special ingredient that will make your dish more authentic. Sichuan Peppercorns are completely different than black peppercorns, and come from a different plant. They are NOT spicy, but rather have a floral aroma, initially tasting bitter, then citrusy.
If you have enough of them in the dish, you will also get a tingling and numbing feeling on your lips and the tip of your tongue.
Preparing Sichuan Peppercorns - Check it out on RedHouseSpice.com